Two leading organisations seek to work together for the benefit of patients, caregivers and the healthcare system.
Imperial College London and Seating Matters seek to work together on furthering and developing technology that will aim to benefit patients, caregivers and the healthcare system.
A leading university in science, technology and medicine, Imperial College London and trusted manufacturer of therapeutic, clinical seating, Seating Matters, are working on new designs for clinical, therapeutic seating to achieve clinical benefits.
Seating Matters founder and Occupational Therapist, Martina Tierney said "I'm excited to further our clinical research with such a fine institution. The early indications are that this project has significant potential to improve the lives of the patients using clinical, therapeutic seating."
"After completed evaluation work, Seating Matters and Imperial will be mutually supportive of finding a suitable commercialisation strategy" said Dr Masouros, Senior Lecturer in Trauma Biomechanics in the Department of Bioengineering at Imperial and the lead Investigator.
Evaluation and commercialisation plans have been outlined and appropriate agreements will be put in place with both parties aiming to provide support to trial and move forward with this collaboration.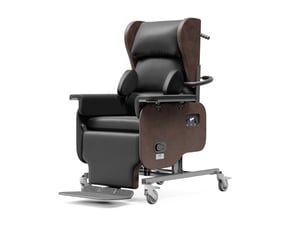 The Milano from Seating Matters is designed for equipment loan stores. Equipment loan stores in the UK is a primary focus for Seating Matters in 2020/2021. The Milano, the Seating Matters Arjo lift compatible chair, is also compatible with Oxford, Liko and other patient lifts.