Experts from the WHO (World Health Organisation) are now warning that the coronavirus can spread via objects or surfaces. In light of the global developments of the fast-spreading coronavirus which has originated in China, we ask what impact this will have on medical equipment suppliers, on the health services and equipment loan stores across the world. We also ask, what precautions should we be taking? How can you protect your patients?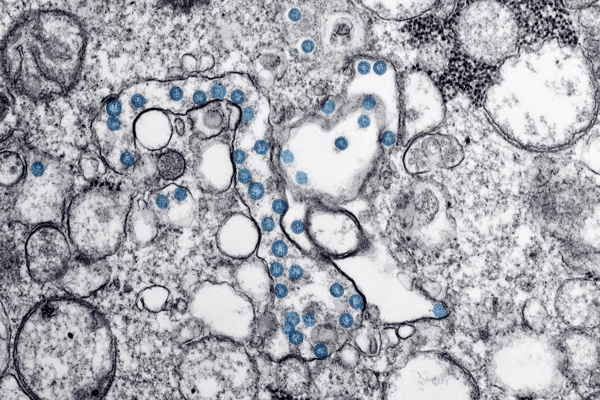 [i]Image Courtesy Of CDC
BACKGROUND
Infection prevention and control is always front and centre in our minds. Our company provides equipment to patients who have complex disabilities, diseases or specific medical conditions that often means they are a higher risk of infection.
It's known that the risk factors for severe disease include certain individuals who have underlying medical conditions, are over 60 years old or have a higher risk of developing severe disease due to respiratory infection[ii] and so the hygiene and cleaning practices of equipment suppliers in our industry should rightly be scrutinised.
TRANSMISSION THROUGH SURFACES
In a press release by the WHO, it has been stated that there is evidence that there can be "transmission through direct physical contact between people but also the possibility of fomites, which is when you have virus on an inanimate surface".[iii]
This could mean that a coronavirus, or a similarly performing pathogen, could be harboured and transmitted by equipment used in healthcare settings. This is a potentially worrying fact for hospitals, nursing homes, equipment loan stores, such as NRS, Medequip or Millbrook Healthcare, and importers, distributors and manufacturers of medical equipment.
Any organisation that handles, processes or recycles equipment to be used by patients with transmissible viruses must have a thorough infection control procedure to ensure the risks to patients is minimised.
STORAGE, RECYCLING & INFECTION CONTROL
The World Health Organisation states that it is not certain how long the virus that causes COVID-19 survives on surfaces, but it seems to behave like other coronaviruses. Studies suggest that coronaviruses may persist on surfaces for a few hours or up to several days. This may vary under different conditions (e.g. type of surface, temperature or humidity of the environment).[iv]
While officials state that to date, there is no evidence of transmission of coronavirus with goods imported, stored or recycled[vii], it would be prudent of all parties involved in the handling of medical equipment to employ additional checks and enhanced cleaning practices.
IS OUR COMMUNITY EQUIPMENT AN INFECTION RISK?
A large proportion of healthcare seating is used in multi-patient environments or recycled through equipment loan stores. Official advice for equipment that will be used for more than one patient is to thoroughly clean and disinfect such equipment before use on another patient.[viii]
Much of the healthcare seating on the market, including the Seating Matters products, are made with materials that are designed specifically for hygienic disinfection. Most commissioners and healthcare procurement staff see this an important design consideration.
However, many chairs used in healthcare use fabrics made from fibres which absorb fluids deep into the material. This is of particular concern with patients who are incontinent, who have a communicable disease or are immunocompromised. This fabric can be very difficult to deep-clean and disinfect. These products may also have exposed wood components and velcro which can harbour bacteria.
Since the patients using medical seating are from a particularly high-risk group of the population, we need to ask ourselves, are these chairs a risk?
We need to scrutinise our procurement, provision, recycling and equipment review practices to ensure that we are providing safe, high quality equipment to these patients.
RISK MANAGEMENT IN LIGHT OF MEDICAL DEVICES DIRECTIVE & MEDICAL DEVICES REGULATIONS
Healthcare seating is generally considered a Class 1 Medical Device. In history, there has been little scrutiny of this product category as it was seen as lower risk than the categories of medical products that cover heart valves and medications. This has led to many small manufacturers and furniture companies entering the medical space without intense scrutiny.
However, the focus of the Medicines and Healthcare products Regulatory Agency in the UK & the Health Products Regulatory Authority in Ireland is now turning to Class 1 Medical Devices. The Medical Devices Regulations (MDR) are tough new rules that demand manufacturers and importers of Class 1 Medical Devices to prove their efficacy, their safety and their risk management procedures as they relate to the patients and caregivers who use their products on a daily basis.
These Regulations are soon to come into force, but it is as yet unknown to what degree manufacturers of Class 1 Medical Devices are compliant with these tough new rules.
TIME TO ASK THE TOUGH QUESTIONS
Since much of the community equipment in use throughout the UK and Ireland is recycled through equipment loan stores and used with multiple patients over its' lifetime, the industry is right to ask tough questions of ourselves at this time.
In light of the global coronavirus which is nearing pandemic levels, and the new Medical Devices Regulations which relate to medical seating for the first time, prescribers, loan store managers, long term care and acute care procurement staff have to ask;
Is the equipment we are using designed to be easily cleaned and disinfected?
Does the manufacturer or importer have credible evidence to back this up?
Is there ample focus on infection control in the selection of products that are being recycled over and over again with high-risk patients?
Can equipment review groups' scrutiny of products be improved to reduce the risks in the midst of a near-global pandemic?
Should the use of products with high-risk materials & difficult-to-clean materials be reconsidered?
Are the risk-management policies and test procedures conducted by manufacturers and importers sufficient to meet the requirements of MDR?
WHAT CAN YOU DO TO PROTECT YOUR PATIENTS AND SERVICE USERS?
Ask your supplier of equipment about their Infection Prevention & Control policy.
Ask for the evidence of how the fabrics and materials in the product can be cleaned and disinfected.
Ask for evidence of their ISO certification.
Ask for evidence of their compliance with MDR/MDD regulations.
Have a critical look at the equipment and healthcare chairs you are using. Could it be easily cleaned and disinfected if the person using it contracted coronavirus or a similar transmissible disease?
The answers to these questions will go part of the way to ensure we are continuing to provide safe, effective and high-quality care to patients and service users.
FURTHER INFORMATION
HOW SEATING MATTERS DESIGNS FOR INFECTION CONTROL
The Seating Matters clinical, therapeutic seating uses contract vinyl that have been designed to counteract C.difficile, E.coli. MRSA and a huge number of bacteria.[ix] In addition, they have an entirely powder coated steel frame which is heat treated to 200oC during the manufacturing process.
An entire Seating Matters clinical, therapeutic chair can be cleaned using hospital-grade cleaning agents to meet rigorous infection control-standards.
HOW TO CLEAN & DISINFECT HEALTHCARE EQUIPMENT
On an online video[x] to educate the public about the risks, latest development and frequently asked questions about coronavirus disease (COVID-19), Dr Maria Van Kerkhove, a member of the WHO's emergency committee on the outbreak, said that the virus won't stay viable for a very long time on some surfaces but that the evidence regarding coronavirus was still not fully developed.
Dr Van Kerhove further says that on "surfaces like plastic and in healthcare facilities, the virus can be inactivated or killed by disinfectants" and by proper cleaning.[xi]
If you think a surface may be infected, clean it with simple disinfectant to kill the virus and protect yourself and others. Clean your hands with an alcohol-based hand rub or wash them with soap and water. Avoid touching your eyes, mouth, or nose.[xii]
IMPLEMENT ENVIRONMENTAL INFECTION CONTROL
All non-dedicated, non-disposable medical equipment used for patient care should be cleaned and disinfected according to manufacturer's instructions and facility policies.
Ensure that environmental cleaning and disinfection procedures are followed consistently and correctly.
Routine cleaning and disinfection procedures are appropriate for COVID-19 in healthcare settings, including those patient-care areas in which aerosol-generating procedures are performed.

[xiii]
References
[i] Image Library. (2020, February 10). Retrieved from https://www.cdc.gov/media/subtopic/images.htm
[ii] Coronavirus. (n.d.). Retrieved from https://www.who.int/emergencies/diseases/novel-coronavirus-2019
[iii] Coronavirus. (n.d.). Retrieved from https://www.who.int/docs/default-source/coronaviruse/transcripts/who-audio-script-ncov-rresser-unog-29jan2020.pdf?sfvrsn=a7158807_4
[iv] Q&A on coronaviruses (COVID-19). (n.d.). Retrieved from https://www.who.int/news-room/q-a-detail/q-a-coronaviruses
[v] Ellerin, T. (2020, February 27). As coronavirus spreads, many questions and some answers. Retrieved from https://www.health.harvard.edu/blog/as-coronavirus-spreads-many-questions-and-some-answers-2020022719004
[vi] Transcript of 2019 Novel Coronavirus (2019-nCoV) Update. (2020, January 27). Retrieved from https://www.cdc.gov/media/releases/2020/t0127-coronavirus-update.html
[vii] Transcript of 2019 Novel Coronavirus (2019-nCoV) Update. (2020, January 27). Retrieved from https://www.cdc.gov/media/releases/2020/t0127-coronavirus-update.html
[viii] Infection Control: Severe acute respiratory syndrome coronavirus 2 (SARS-CoV-2). (2020, February 21). Retrieved from https://www.cdc.gov/coronavirus/2019-ncov/infection-control/control-recommendations.html
[ix] 2020, Seating Matters, Technical File, Test Reports for Fabrics
[x] Coronavirus. (n.d.). Retrieved from https://youtu.be/SCgCzYAHusA
[xi] Coronavirus. (n.d.). Retrieved from https://youtu.be/SCgCzYAHusA
[xii] Q&A on coronaviruses (COVID-19). (n.d.). Retrieved from https://www.who.int/news-room/q-a-detail/q-a-coronaviruses
[xiii] Infection Control: Severe acute respiratory syndrome coronavirus 2 (SARS-CoV-2). (2020, February 21). Retrieved from https://www.cdc.gov/coronavirus/2019-ncov/infection-control/control-recommendations.html