In 2013, Adam was a regular, 33 year old, Manchester United supporter, in what he describes as the "prime of his life", when a brain haemorrhage changed everything.*
Adam suffered a Subarachnoid Haemorrhage, "an uncommon type of stroke caused by bleeding on the surface of the brain."1 leaving him unable to walk.
After spending months in the Colman Centre for Specialist Rehabilitation, Adam was then moved to Meadow House Nursing Home whilst he waited for home adaptions.
With more than 1 year spent in and out of hospitals and nursing homes, Adam was finally able to come home. Adam's home had been adapted to allow him to move, as freely as possible, around his home in a chair. This included additions such as;
Wet rooms

Wider doors

Mechanical kitchen

Electric front door
But with all these changes there was one thing that still wasn't 100% - and that was Adam's chair.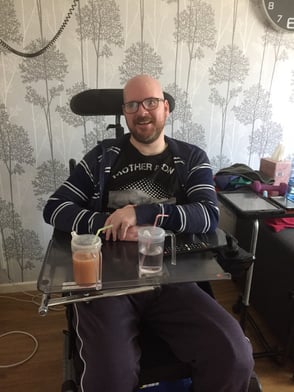 "The chair was not very comfortable" said Adam when speaking about his tilt in space wheelchair. "It was a great chair, but was not working for me and I would often end up back in bed by the afternoon."
In 2019 Adam began working with Kelly, a physiotherapist who was referred to help with passive stretching and progressing Adam into a stand aid.
"When I started working with Adam I realised we were just 2 weeks apart in age, and I began looking at his treatment how I would want to be treated and what I would want to achieve" said Kelly. "I can go from my sofa to my car, I can stay in my lounge and watch a movie with friends, and I wanted him to have the same options."
With this in mind Kelly knew that Adam would need a new chair, and she reached out to the team at Seating Matters.
Conor Lynch, the local Seating Matters Seating Specialist was sent to assess Adam. "I met Adam in his wheelchair and it was immediately obvious to me he was in pain and discomfort. Sitting for most of the day in an uncomfortable position was getting to Adam and I knew straight away the Phoenix would be a game changer for him."
"Conor was great, very funny... but don't tell him we said that!" Adam P.
Once Adam sat in his Phoenix chair, things changed for the better. "If I had to give this chair a rating I would give it a 10/10" said Adam "I no longer have to go back to bed because it is so comfortable".
"This chair really has changed Adam's life" said Kelly. "Adam can now spend the entire day in his lounge and stretch his legs independently, which he could not do in the wheelchair. We also got the chair in black to match his lounge and it makes the chair look like any other reclining chair which was important to Adam."
Adam is could not be happier in his Phoenix chair, "I believe this chair will help me to be able to walk eventually which is my main goal!"
Do you know someone like Adam? Book a free seating assessment today.
*Note - the purpose of this blog is to give an overview of the product with some tips to consider on its use. This is not intended to be a substitute for professional or medical advice, diagnosis, prescription or treatment and does not constitute medical or other professional advice. For advice with your personal health or that of someone in your care, consult your doctor or appropriate medical professional.
References
(n.d.). Subarachnoid haemorrhage. Retrieved November 09, 2020, from https://www.nhs.uk/conditions/subarachnoid-haemorrhage/