With Christmas only a few weeks away, you may be working hard to make sure your loved one can be home for Christmas. But if they are in hospital, it is often the case that equipment is not always available to encourage early discharge, such as appropriate clinical, therapeutic seating.*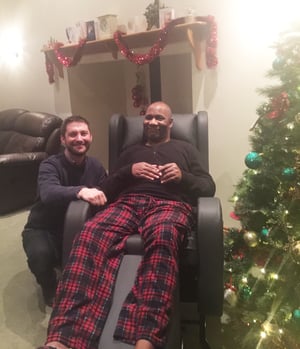 Your local Seating Specialists are always available to carry out a complimentary Seating Assessment with your local Seating Specialist in the hospital to speed up the discharge process.
During a Seating Assessment the chair will be set up to suit the individual seating and postural needs of the patient and will be available for rental immediately.
Regardless whether it is a short or long term rental, in a hospital, nursing home or private home, we are able to construct a plan tailored to your needs.
RENT CLINICAL, THERAPEUTIC SEATING WITH RAPID DELIVERY
Increase comfort.

Reduce the risk of falls.

Increase function and independence.

WOULD YOU RATHER PURCHASE?
If purchasing a chair is of more interest to you, again, your local Seating Specialist is always available to carry out a complimentary Seating Assessment, and once purchased, they will facilitate the delivery and set up of the chair to ensure the patient is comfortable and gaining the maximum benefit of the Seating Matters chair.
Fast track orders placed on or before 7th December 2020 have GUARANTEED CHRISTMAS DELIVERY.
After 7th December, rental options will be available.
CAN WE HELP YOU BRING THEM HOME FOR CHRISTMAS?
The team at Seating Matters would be happy to help you in any way we can. Get in touch with us today.
*Note - the purpose of this blog is to give an overview of the product with some tips to consider on its use. This is not intended to be a substitute for professional or medical advice, diagnosis, prescription or treatment and does not constitute medical or other professional advice. For advice with your personal health or that of someone in your care, consult your doctor or appropriate medical professional.