When you have identified the need for clinical seating in your hospital or care facility, a suitable next step to take is a Seating Assessment. Before an assessment is arranged, it is common for a group of therapists, clinicians and caregivers to discuss the desired outcomes collaboratively.
BOOK A SEATING ASSESSMENT FOR YOUR HOSPITAL, CARE HOME OR FACILITY
In this short article, I will detail how to identify and prioritize the main goals for which the seat is to accomplish.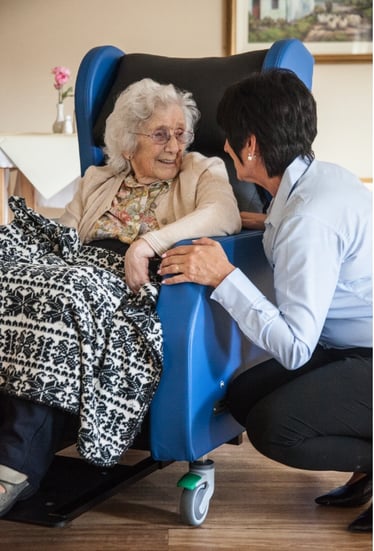 The goals of seating can be divided into three main areas:
Activity related functions.
Psychological functions.
Physiological functions.
In order to achieve these goals, the assessment must aim to identify that a chair can support the user's body, manage skin and pressure care needs, is comfortable and ensures both patient and caregiver safety.
You can expect for each party involved in the Seating Assessment process to have differing views on the main goals to be achieved. For instance, a therapist may be concerned with patient function, while a user may focus solely on comfort. In other cases, a caregiver may put the most onus on adjustability and ease of use.
It is worth first discussing each perspective on the chair with the justification for each notated. After reviewing each perspective, the group should then prioritize the goals into the top 3 goals to be achieved through the use of the chair.
In order to make these discussions as efficient and organized as possible, we have created a simple worksheet for goal setting as it pertains to the provision of clinical seating. This sheet can be found on page 49 of The Clinician's Seating Handbook.
Of course, these are a few tips on helping you to prioritize your seating goals for a Seating Assessment. If you have questions regarding the process or how to determine goals in a unique situation, we are more than happy to help. You can contact us via phone, email or on our live chat.
REQUEST OUR FREE CLINICAL SEATING RESOURCE HERE
Note - the purpose of this blog is to give an overview of the product with some tips to consider on its use. This is not intended to be a substitute for professional or medical advice, diagnosis, prescription or treatment and does not constitute medical or other professional advice. For advice with your personal health or that of someone in your care, consult your doctor or appropriate medical professional.