Henry and Christine are an elderly couple living in the North-Eastern United States. Devoted to one another for many decades, they were devastated when Christine received a diagnosis of Parkinson's disease in 2003. They tried many different methods to treat her condition, including deep brain stimulation, but sadly her condition was progressive and worsened.
CLICK HERE TO LEARN MORE ABOUT THE SORRENTO CHAIR
It got to the point where Christine, still living at home with her husband, could no longer move throughout their big, beautiful home. This broke both their hearts. Christine has a large bedroom with bright windows which she loved dearly. Henry knew he wanted to give his wife what joy was possible and they both wanted Christine to stay in her home as long as possible. After much thought, he decided he would spend some of his life savings on a medical chair to get Christine upstairs.
By this time Christine's condition had worsened. She had very little trunk control and limited mobility, so she needed a lift to get in and out of a large recliner chair in the living room. In the recliner, Christine could not sit up straight; she would slouch and fall to the side. She began to develop osteoporosis in both of her shoulders and would experience so much pain that she couldn't sit out for long.
The couple's daughter Brigid, a registered Physical Therapist, tried padding her mother's chair with pillows to keep her upright and comfortable, but worried that this was not a safe or comfortable seating option for her mother.
That's when Henry started looking online for a chair for his wife. He found Seating Matters on the internet and called the American office. He spoke with Seating Specialist Danny, who, based on Christine's seating needs, suggested a chair for her comfort and postural support: the Sorrento.
Henry was at first a little taken aback by the price and decided to look around first.
"I had already decided to buy a lift for the stairs, so I took a look at some similar products first", he tells us. "It was clear that nothing else came anywhere close to what you could give Christine."
After taking some time to think, Henry had an idea. He knew that his wife loved her room, but he knew it was more important to have Christine be safe and pain free. After talking to the team at Seating Matters, he felt confident that the Sorrento could accomplish this. Brigid, with her clinical knowledge, agreed wholeheartedly. Henry made the decision to move his and Christine's bedroom downstairs for better mobility. Not only would this be a safer option, he knew this would keep the love of his life at home with him longer.
"I liked that Seating Matters is a partner with the VA hospitals. It gave me more confidence in my decision to get the chair." - Henry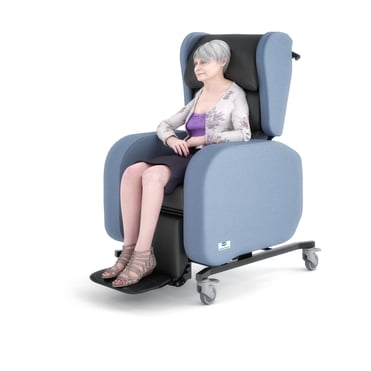 Over the phone, Henry put in an order for a Motorized Sorrento.
Now that Christine is in her comfortable chair, she can sit out for much longer than she used to be able to. She no longer slumps because the built in tilt in space allows her weight to be redistributed and allows her to make full back contact with the chair. She's also stopped sliding forward in her chair. Henry and Brigid decided to add side lateral supports to help keep Christine supported and sitting up straight in her chair at all times.
The family are grateful to have a comfortable and safe seat for Christine. Henry tells us, "Christine and I are very grateful we have this [Sorrento] chair. It's made with care and we cannot thank Seating Matters enough for helping care for Christine stay in the home she loves so much."
CLICK HERE TO DISCOVER THE SORRENTO CHAIR FOR COMFORT & SUPPORT


*Note - the purpose of this blog is to give an overview of the product with some tips to consider on its use. This is not intended to be a substitute for professional or medical advice, diagnosis, prescription or treatment and does not constitute medical or other professional advice. For advice with your personal health or that of someone in your care, consult your doctor or appropriate medical professional.