Cerebral Palsy, also known as CP, is a neuromuscular disorder of the central nervous system that varies based on the area of the brain that is affected*. There are several levels of disability and they are classified by the distribution of the disability. CP can also present a variety of behavioural or cognitive abilities as well as possibly leading to seizures and other sensory issues.
LEARN MORE ABOUT CEREBRAL PALSY IN THE CLINICIAN'S SEATING HANDBOOK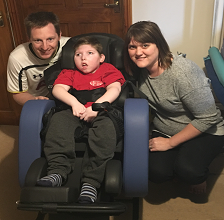 CP is commonly described as:
CP with quadriplegia, where all four limbs are affected.
Hemiplegia, where one side of the body is affected.
Diplegia where both arms and both legs are affected.
The type of muscle tone the child displays is also sometimes used to describe a child's CP. They can be described as:
Spastic, an increase in muscle tone that causes stiff or jerky movements.
Dyskinetic, involuntary movements often noticeable when the child is intentionally trying to move.
Ataxic, where the child will experience tremors in accurate movements and lack of coordination, and;
Mixed, which is a combination of the above muscle tones.
The gross motor function classification system (GMFCS) categorises children up to the age of 18 into five levels which displays their motor ability:
Level I - The child walks without limitation.
Level II - The child walks with limitations.
Level III - The child walks using a handheld mobility device.
Level IV - The child has self mobility with limitations (they may use power mobility).
Level V - They are transported by a manual wheelchair.
CP and Clinical Seating
For children that fall into a level III to IV category, varying degrees of assistance from the child's seat may be required. This can range from a modified seat belt to the use of full adaptive seating for trunk and pelvic positioning and support and possibly assistance with transfers.
For children that fall into these categories, these things should be considered when assessing for an adaptable pressure management surface:
Head support.
Tilt in space.
Feeding and the risk of aspiration.
Safety and falls prevention.
Seating Matters offers a range of children's seating with available adaptations for each child's unique needs and the ability to grow as the child grows. You can read more about Lindsay and Callum's stories and the chairs we've made to help these kids in their everyday lives.
Know a child with CP that could use our help? We are happy to arrange an in person Seating Assessment, free of charge to assess the child, family and caregiver needs.
CLICK HERE TO BOOK A SEATING ASSESSMENT FOR YOUR CHILD
*Note - the purpose of this blog is to give an overview of the product with some tips to consider on its use. This is not intended to be a substitute for professional or medical advice, diagnosis, prescription or treatment and does not constitute medical or other professional advice. For advice with your personal health or that of someone in your care, consult your doctor or appropriate medical professional.