The combination of memory foam and Dartex in Seating Matters chairs give a medium to high pressure redistribution, however maximum pressure management can be achieved in a chair by applying:
By using these principles, high or maximum pressure redistribution can be achieved by: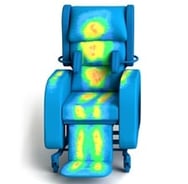 Loading the Body.

Providing Postural Support.

Effective Repositioning (Every two hours).

Use of an Appropriate Surface.
Discover more about the Four Principles of Pressure Management in Seating by requesting your FREE copy of The Clinician's Seating Handbook here. You can also download a handy overview poster which is a great reminder of the Four Principles here.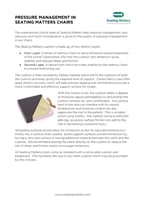 Click here to request a download which covers the level of pressure management in Seating Matters chairs. We must stress that this is a guide and each patient has different needs which must be individually considered and assessed before a decision can be made.

CLICK HERE TO REQUEST YOUR COPY OF THE CLINICIAN'S SEATING HANDBOOK
• Note - the purpose of this blog is to give an overview of the product with some tips to consider on its use. This is not intended to be a substitute for professional or medical advice, diagnosis, prescription or treatment and does not constitute medical or other professional advice. For advice with your personal health or that of someone in your care, consult your doctor or appropriate medical professional.