I love hearing about how our chairs change peoples lives and it reminds me why as OT's we do what we do. Today I want to share this heartwarming story about Nan who received her new chair from our Seating Specialist, Tom.
Nan Kelly from Glenbeigh, Co.Kerry in Ireland was thrilled to have her new Seating Matters chair just in time for a visit from Independent TD Michael Healy-Rae
(Pictured right).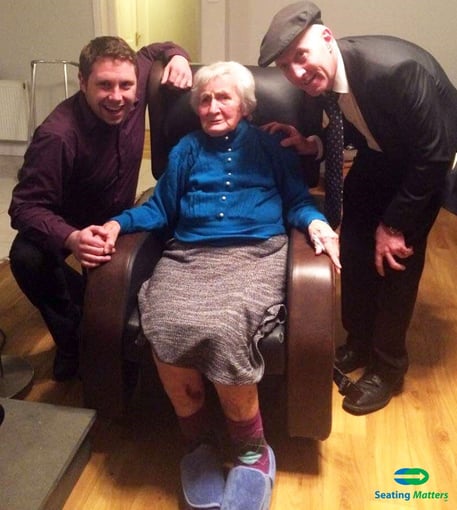 At 97 years old, Nan was determined to make it to the local polling station to cast her vote for the Irish general election last month. To thank her in person, elected TD Michael Healy-Rae, made the trip to Nan's home where he was suitably impressed with her new MonacoTM chair.
"Michael thought the chair was great and he could see how happy Nan was sitting in it. She was delighted that he made the effort to come and visit her," says Nan's granddaughter Mary.
Mrs Kelly lives with her family who care for her, but they knew she was sitting uncomfortably in an armchair that had no postural support. She was permanently slouched to one side and developing back pain. The family heard about Seating Matters and got in touch with the Seating Specialists in their area, Advanced Seating.
Mary continues, "Her new chair is just brilliant. She is a very high spirited lady, but she is even happier and much more content in her chair. We are glad we could finally find a chair that would benefit her in ways we didn't expect. She has even gained some of her independence back that had gone until now."
Nan is now enjoying her new chair. "I am ever so comfortable. I am fortunate to be surrounded by my wonderful family and having my new chair makes spending time with them even better. I could sit in it all day!"
Should someone you care for wish to have a free assessment, we'd love to help. To get connected with a Seating Specialist in your area by visiting www.seatingmatters.com or email contact@seatingmatters.com