The difference between recline and tilt in space in seating can be easily confused. It is crucial to understand the difference in these functions to ensure that the chair is both comfortable for the patient and does not pose the risk of pressure ulcer incidence. The recommended chair for the patient should be adjusted to meet their individual postural and pressure care needs and therefore, reclining or tilting to best suit their condition.
CLICK HERE TO ARRANGE A CHAIR DEMONSTRATION
What is Back Angle Recline?
Back angle recline is the adjustment in angle of the back of the chair, whilst the body of the chair remains stationary. It is measured as the angle of the back from the seat surface where the patient sits.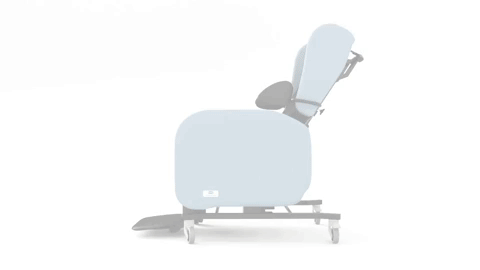 When is Back Angle Recline Used?
Back angle recline can be used for comfort and to redistribute pressure. It is crucial that the back angle of the chair matches the hip angle of the client to prevent them from falling into an improper seating position. If the back angle does not match the hip angle, the client might slide from the chair, which could cause sacral sitting or a Posterior Pelvic Tilt.
For this reason, the use of recline on its own can cause sliding from a chair for clients that have poor postural control, thus increasing shear and friction. It is recommended that Tilt in Space is used in conjunction with Recline for this group of clients and that a thorough Seating Assessment is carried out.
As a rule of thumb, I never recommend a recline-only chair for clients who are unstable and have poor postural control.
Guidelines recommend that seated individuals be repositioned every 2 hours to redistribute pressure and off load high pressure areas. Generally, this is achieved through the use of Tilt in Space, but in some cases, repositioning can be accomplished by an adjustment in the angle of the back of the chair.
In patients with limited hip flexion, it is important that the angle of recline can be locked at an optimum angle position to reduce the risk of sliding and improve comfort.


Which Chairs Facilitate Back Angle Recline?
The Seating Matters Phoenix™, Sorrento™, Bariatric Sorrento™, Atlanta, Milano™ and Monaco™ chairs all have back angle recline adjustment. This feature can be temporarily locked at a specific angle, depending on the patient's needs. This will limit improper adjustment and allow for easy adjustment as required.

What is Tilt in Space?
Tilt in Space is when the entire chair tilts on its frame, whilst the angle of the patient's hips, knees and ankles remain the same.
When is Tilt in Space Used?
Tilt in Space can be used to redistribute pressure to offload the Ischial Tuberosities (IT's, or sometimes called 'sit bones'). Tilting the client back whilst maintaining the angles in their hips, knees and feet can create a safe position for many clients. Redistributing weight through their back can reduce potential pressure ulcers, whilst creating a comfortable, stable and functional position for the user.



Which Chairs Facilitate This Feature?
The optimum angle for improving positioning and function is 15-30° which comes as standard on our Phoenix™, Sorrento™, Milano™ and Bariatric Sorrento™ chairs.
An angle of 45° of tilt is often recommended for patients who are at a greater risk of pressure ulcers. This angle of tilt has been shown to be an effective angle for weight shift and pressure management.
The Seating Matters Sorrento™ and Phoenix™ chairs have the option of increased tilt in space to a maximum of 45° with built-in back recline adjustment.
Want More Information?
Remember, we have free resources on hand to help you in prescribing correct seating for your patient or loved one. It is important to note, that the misuse of either of these features can injure a user, a caregiver, cause unwanted side-effects. If you are new to healthcare seating, we recommend:
Free Seating Assessments. These assessments are carried out by your local Seating Specialist to determine how clinical, therapeutic seating can meet your care needs and advise on best practices for the use of tilt in space and recline.


Speaking to our Internal Seating Specialists. Trained by Martina Tierney OT and available to answer your questions at any time. Please contact us by phone, email or using the live chat feature on your browser.
CLICK HERE TO ARRANGE A CHAIR DEMONSTRATION