A pressure injury is a localised injury to the skin and/or underlying tissue, usually over a bony prominence caused by pressure or pressure in combination with shear. Pressure injuries are a preventable injury in up to 95% of cases, and can cause serious health issues to elderly, sick or immobile individuals.
Martina Tierney, Occupational Therapist and Clinical Director of Seating Matters has dedicated most of her 30 year long career to researching the impact of seating on the quality of life of patients across the world, with a mission to change the world of healthcare seating through reducing the incidence of these debilitating pressure injuries/ulcers.
Often clients only think of the cushion in the chair when considering pressure management but only focusing on the cushion can actually increase pressure risk to patients. Click here to read my blog outlining the common mistakes made by clinicians when using pressure cushions.
New industry leading research by Ulster University and Seating Matters has revealed four key areas that collectively, should be adhered to to ensure that optimum pressure management is achieved whist seated. Results were staggering when these steps were implemented correctly, including an 88% reduction in pressure injuries.*
In the short video below I outline how to achieve optimum pressure management in seating by applying all 4 principles. Remember, that the surface or cushion is listed as principle number 4 because if princples 1, 2 and 3 are not adhered to then optimum levels of pressure management cannot be achieved.
In 'The Clinician's Seating Handbook' The Principles of Pressure Mangement in Seating are described in detail. If you have not got your free copy yet, you can request it by clicking here.
The Four Principles of Pressure Management in Seating were formed as a result of the Ulster University and Seating Matters research trial and are as follows:
1. Load the Body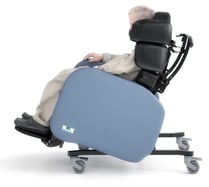 When you increase an individual's surface area contact with their chair, you reduce the pressure exerted through any one point. Achieved through correct seat dimensions – seat height, depth, width, foot plate height and angle.
2. Provide Postural Support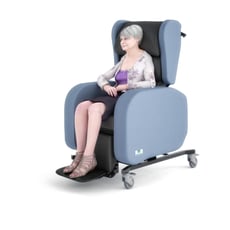 Proper support for the patient will help maintain a midline posture and manage the distribution of pressure throughout the body. Achieved through correct seat dimensions plus head, lateral and leg supports.
3. Effective Repositioning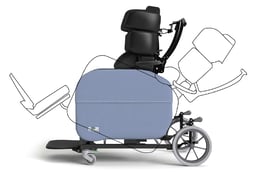 Guidelines recommend that seated individuals are repositioned every 2 hours. This increased blood flow and the amount of oxygen reaching the skin. Research shows that 45° tilt can maximise the potential for significant blood flow increase and pressure reduction. Achieved using tilt in space in the Phoenix and Sorrento chairs and back angle recline in our full chair range.

4. Use an Appropriate Surface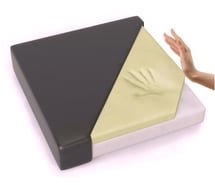 The Seating Matters cushion is a visco memory foam based cushion coated in Dartex, an anti-shear, multi stretch material. This allows any bony prominences to submerge into the foam, achieving maximum surface area contact and reducing interface pressure. The fact that the material is breathable helps reduce the risk of pressure ulcers developing by reducing moisture on the surface of the skin. A medium to high risk memory foam cushion is standard on all our chairs. The cushion is removable to accommodate alternate cushions if required.
When carrying out a Seating Assessment, it is imperative to keep these four key principles to keep in mind to effectively manage pressure for your patient and reduce the risk of pressure injury development. The chair you chose must accomodate all four principles to be effective in managing pressure risk. All the Seating Matters chairs have been designed to accomodate The Four Principles of Pressure Management in Seating.
Download your poster outlining The Four Principles of Pressure Management in Seating here.
If you would like to expand your knowledge of seating and discover how to apply The Four Principles of Pressure Management in Seating, sign up for free Lunch & Learn clinical seating training session today for your team.

*Daly, O., Casey, J., Martin, S., Tierney, M. & McVey, O. (2013) The effectiveness of specialist seating provision for nursing home residents, Ulster University.