Our clinical team at Seating Matters have worked very hard on a new clinical publication in the Seating Matters series – 'The Clinician's Guide to Pressure Injuries' which we are excited to launch in the USA and Canada.
• Contains the new NPUAP pressure injury stages (Updated April 2016).
• In depth overview of our randomized control trial carried out in conjunction with Ulster University* .
• Best practice guidelines to reduce pressure injury incidence within facilities.
• Case study results and concrete actions for clinicians to implement.
This guidebook is an extremely important and useful resource, ideal for Enterostomal Therapists, Wound Care and Tissue Viability Nurses, Occupational Therapists, Physical Therapists and Caregivers - basically it can be used by anyone seeking to reduce pressure injuries in their facilities.
Learning outcomes
By implementing 6 key actions which are outlined in this practical guide book, you can drastically reduce the incidence of pressure injuries within your facility and therefore reduce enormous pain and suffering, as well as saving a substantial amount of money and staff time from treatment of these wounds. In this guide you will learn about the link between seating and pressure injuries, receive the evidence you need to justify specialist seating for your patients and learn from real in depth patient case studies with real patients.
The Clinician's Guide to Pressure Injuries (Coming Soon!)
The Clinician's Guide to Pressure Injuries will be published soon, but until then you can get a copy of The Clinician's Seating Handbook, click here to request your copy today.
Cost Benefit Analysis
As with all purchasing decisions there is a cost benefit analysis to consider, especially for high cost equipment. There are many examples within this guide to support a thorough cost benefit analysis to help with purchasing decisions or justification.
One example:
Valerie was part of the intervention group* and needed re-positioning frequently throughout the day as she would fall to the side or fall forward whilst seated. The level of postural correction required after being matched with seating which met Valerie's needs, was significantly reduced. In this one case, 219 hours of care time was saved. In the guide you will learn how this time saving was achieved, whilst not compromising Valerie's skin integrity ensuring no pressure injuries formed.
Imagine the impact this could make if it were replicated with all patients within your facility!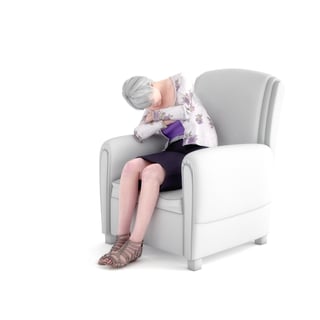 BEFORE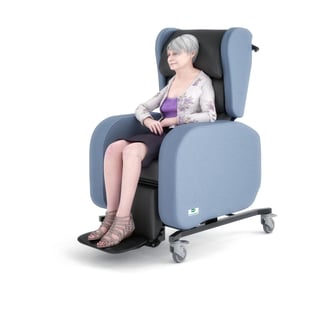 AFTER
Be among the first to get your hands on a copy!
We have a limited number of copies available to USA and Canada only FREE here while stocks last.
Alternatively you can purchase your copy on Amazon now:
I would love to hear your feedback on this new publication, I know that it will be a huge help to those actively seeking to reduce the incidence of pressure injuries in their facility. Send me an email at clinical@seatingmatters.com.
* The resulting report from this randomized control trial shows that the study consisted of 38 participants from 3 nursing home settings, who were randomly assigned to control and intervention groups using computer-generated numbers. The study reported a reduction in pressure ulcers, which has been calculated from the reduction in pressure ulcers/pressure injuries/skin redness in the intervention group. The control group of the study experienced an increase in pressure ulcers during this period. As a pilot study of a specific nature, it was not blinded. The measurement of pressure ulcers was observational and the analysis of the results included various forms, not including statistical analysis. The study has been reviewed and presented at over 30 academic conferences in 3 continents and is pending publication in a respected peer-reviewed journal.