Alzheimer's disease is the leading form of dementia found in elderly patients marked by the slow degeneration of person's cognitive function due to impaired communication between nerve cells in the brain. Alzheimer's disease is associated with severe loss of memory and changes in behaviour. As the disease progresses, the symptoms change and can become more exaggerated, especially as the individual's memories become more and more short term.
It's estimated that over 46million people in the world are living with Alzheimers Disease. There are over 9.9 million new cases of dementia each year worldwide, with reports of one new case every 3.2 seconds. 1
CLICK HERE FOR MORE INFORMATION ON SYMPTOMS
Understanding Alzheimer's Disease

Take just 90 seconds of your time to watch this fantastic video from Alzheimer's Research UK, which explains Alzheimer's Disease and how it affects the brain

#Sharetheorange
What can families do to help their loved ones living with the condition?
For a loved one suffering from Alzheimer's Disease or Dementia who is still living at home or perhaps is transferred to a 24 hour care facility as the condition progresses, their families repeatedly find that other complications can arise which begin to affect their health, quality of life and ultimately their comfort and happiness. Read on to find out how these extra complications can be often be addressed through proper seating and correct posture.
HEALTH
Complications with breathing and recurring lung infections
A poor posture being slouched in a chair or leaning to one side can lead to many health complications, for example, you may notice that the patient suffers from recurrent lung infections, or tires of talking much more quickly than they used to.
The adjustment and support from a Seating Matters chair with various accessories and additions such as lateral supports, supports the body and maintains correct posture, enabling the patient to breathe properly without their lung capacity being lessened by a side effect of poor posture, and therefore experiencing less lung infections and overall increased respiratory function.
Digestive and Urinary Tract Problems
Incorrect posture and unsuitable support from a chair can negatively impact on a patient's physiological functions and can lead to recurring digestive complications including urinary infections, kidney infections and bowel impactions. By utilising the functions of correct seating, the body's organs have the room they need to work at their optimum level.
Pressure Ulcers / Skin Breakdown
Decreased mobility in patients who are resigned to sitting for long periods of time, such as patients with Alzheimer's Disease, can lead to decreased oxygen levels in the blood which can ultimately lead to the development of pressure ulcers in bony prominences of the body, which can pose a serious threat to life, especially in the elderly.
QUALITY OF LIFE
Incorrect posture can impact on a patients ability to swallow therefore they can eventually stop eating. Patients often feel the need to support their body and posture with one or both of their hands if the chair they are in doesn't provide them with enough support, leaving them feeling instable and insecure. The support received from correct seating enables them to perform simple tasks again such as being able to interact freely with both arms and be able to reach for a cup of tea or a tissue – to having the confidence and security within the chair to begin self-feeding instead of being fed by a carer, which we are delighted to have seen in a number of cases!
For degenerative conditions such as Alzheimer's Disease it's imperative to find solutions to allow the patient to regain a level of independence and dignity. For pressure redistribution, rather than relying on a carer or family member to adjust the angle of the chair we can provide powered movements which the user can manage independently. Also the very basis of the chairs are designed to promote independence and functionality for the patients, providing enough support and stability to give the patients the confidence to be more independent.
COMFORT
Overall the main quality we are seeking to provide the user of the chair with is comfort and contentment. Helping them feel safe and secure, maintain their independence whilst also supporting postural and functional needs, can lead to a huge improvement in the mental wellbeing of the patient as well as a marked physical improvement.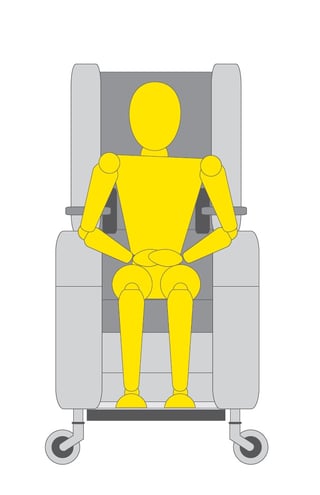 An overview of the various types of chairs
The Sorrento, Phoenix, Atlanta and Monaco in particular are designed to suit the needs of those with Alzheimer's Disease. The Phoenix and Sorrento are helpful in the later stages of Alzheimer's when muscular function can be reduced. Seating Matters Phoenix and Sorrento chairs are highly adjustable, providing support all over the body and all accessories can be included at a later date if they are not needed at the initial assessment. This allows the chair to meet changing needs over a long period of time.
The Atlanta is particularly helpful in patients who suffer involuntary movements and can be challenging to seat. People with these symptoms may have an increased risk of falling out of their chairs because they forget that they are not as strong as they once were. The seat depth, high arm rests and leg rests keep the individual safe and snug in the chair.
Please bear in mind, each person is different and so whilst we have given an overview of our observations to date when dealing with similar patients, you must use knowledge of the patient, environmental considerations and personal preferences before deciding on which Seating Matters chair to use. A Seating Specialist can carry out a free seating assessment at a time and place that suits you to assess the patients needs and match with a suitable chair.
If you are interested in booking a Seating Assessment please contact us at contact@seatingmatters.com and we can put you in touch with the seating specialist in your area.
For more information on Alzheimers Disease please try the following helpful links:
http://www.patientrecruitment.com/
http://www.fightdementia.org.au/New-South-Wales.aspx
REFERENCES
1 - http://www.alz.co.uk/research/statistics[/fusion_text]