At Seating Matters we pride ourselves on the strength of our clinical team, which should be the very backbone of any company in the medical industry. As well as OT's and physiotherapists we work with two outstanding nurses, and today (and everyday) we celebrate them as part of International Nurses Day acknowledging the wonderful work of nurses worldwide.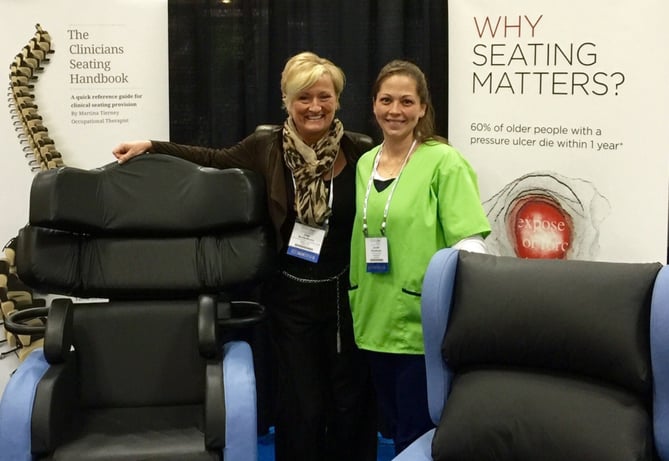 Meet Patti Burke-Martin
Patti lives in Erin, a small town in Ontario, Canada and joined the Seating Matters team last year. Patti is Clinical Director and spreads the word about Seating Matters throughout Canada and USA. Her husband Brad has also a keen interest in the Seating Matters business and often assists Patti where possible.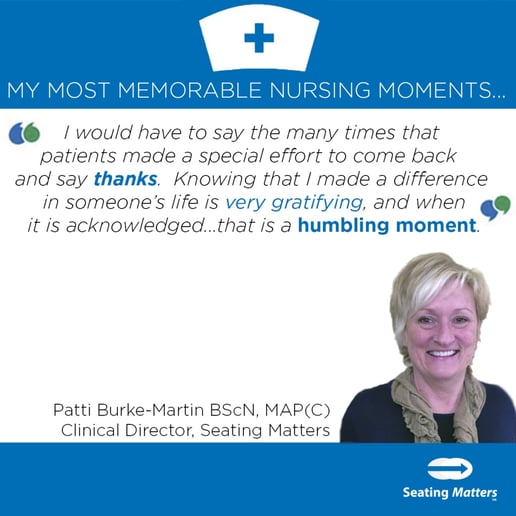 I'm proud to be a Nurse because...
I have been very blessed to assist/be part of watching people get better and grow stronger. I have also been able to be a part of the journey when loved ones have left this world. This has been awe inspiring at best and so gratifying to be allowed in to others' lives. I have also been fortunate to explore the many facets of being a nurse, from working in hospital, to educating and helping student nurses grow and develop to then being part of industry bringing revolutionary products to awareness for patients, clinicians, physicians and the many interdisciplinary teams across the healthcare spectrum.
The most memorable moment of my Nursing Career...
Hmmm…there truly have been so many! I would have to say the many times that patients made that special effort to come back and say thanks. Knowing that I made a difference in someone's life has been very gratifying, when it is acknowledged…that is a humbling moment.
How I decided to become a Nurse.
I didn't always think I would be a nurse. I thought I would be a fashion designer (LOL), a paediatrician, a psychologist, I had many different ideas growing up. I actually just decided one day to apply for nursing as it encompassed some of the other career paths I was interested in. Once I actually started my education I was hooked. It was then that I knew I had made the right decision. Nursing is such a mixture of roles and one has to be very adaptable to ever changing situations to be able to navigate through even a 12 hour shift.
I applaud all the nurses that are out there, in whatever capacity, working through very challenging times and ever increasing patient needs.
My Nursing History
I worked as a nurse on a medical-surgical unit for 15 years and absolutely loved it!! There would be a variety of patients and situations and every day was different….even going through a day, things changed and evolved very quickly. During that time I began doing a bit of teaching within the hospital and was bitten by that bug. I had so much fun teaching that I decided to do it more formally and taught at the local college as well as university. Working with eager new students, ready to take on the world, was very gratifying.
I moved in to the Toronto area and worked within various healthcare sectors, mostly within the world of education until I was introduced to the medical industry and that changed the direction of my career. Initially I was a Clinical Consultant and then moved in to sales and sales management. This was a whole new exciting world. I have been a part of bringing some fantastic products to the clinician/physician world, enhancing patients' lives.
From Nursing to Seating Matters
Being with Seating Matters is a culmination of wonderful experiences. I again, am able to bring incredible products, our chairs, to awareness, to the people that need them most…the patients and the caregivers. We are able to provide solutions that enhance patients' lives and make the work world of healthcare just that much better.
Meet Jennifer Broadhurst
Jennifer Broadburst is based in Chicago and is relatively new to the Seating Matters team having joined this year. Jennifer has been a nurse for 18 years, having worked in the emergency department as well as cardiology. Jennifer and her husband Jim are now Product Specialists for Seating Matters and are doing a fantastic job in the Chicago area, changing lives daily and reaching patients most in need of our help, to improve their quality of life.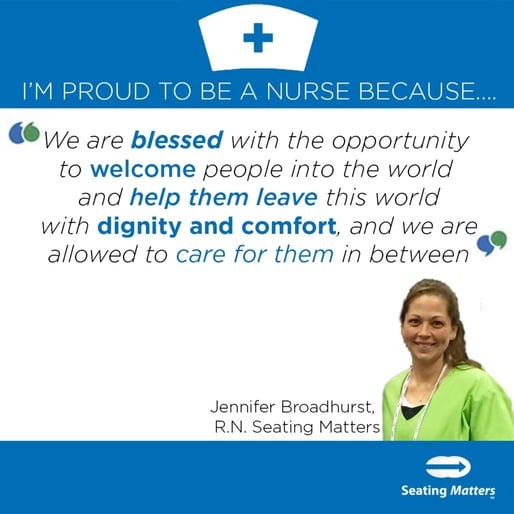 I'm proud to be a Nurse because...
I am proud to be a nurse because I believe it to be one of the most unique careers in which one can use one's ability to truly impact the lives of others and their families. Nurses wear so many hats and play such a vital role in caring for others health and well-being. We see people in their happiest moments (such as the birth of a new baby) as well as in their most difficult moments and we have the ability to help! We are blessed with the opportunity to welcome people into the world and help them leave this world with dignity and comfort and we are allowed to care for them in between.
The most memorable moment of my Nursing Career...
Do I have to pick just one? I have been so fortunate to have experienced so many memorable moments as a nurse. I have been able to be part of saving someone's life in a dramatic way in the ER but I have also been able to be a part of saving someone's life in a less dramatic fashion when I have seated a person in a Seating Matters chair and they are now free from pain, choking, discomfort or being lonely because they can now interact with others or regain some independence while properly seated in a chair. Improving someone's quality of life is no less important or rewarding for me.
How I decided to become a Nurse.
I knew I wanted to be a nurse at a very young age. In fact, I never remember not wanting to be a nurse. I never had any desire to study any other field, it was always the perfect fit for me. Nursing is such a wonderful profession where one is able to make a difference every day!
Thank you both for being a part of the Seating Matters team, adding value and making critical improvements to patients lives on a daily basis. We're grateful to have you!
Martina