There was a huge amount of excitement at Seating Matters today as local camera crews from one of our biggest broadcasting stations, UTV visited our head office in Limavady.
Mark McFadden, UTV, arrived at 09:30am with camera man in tow, to report on our American contract to provide the largest healthcare system in the world, the US Department of Veterans Affairs, with our specialty therapeutic wheelchairs. We are contracted supplier to the Veterans Health Administration which has 1,233 healthcare facilities serving more than 8.9 million veterans each year.
Reporter Mark McFadden went on a tour of the factory and talked to our staff and trialed the Seating Matters chairs.
Watch the footage here: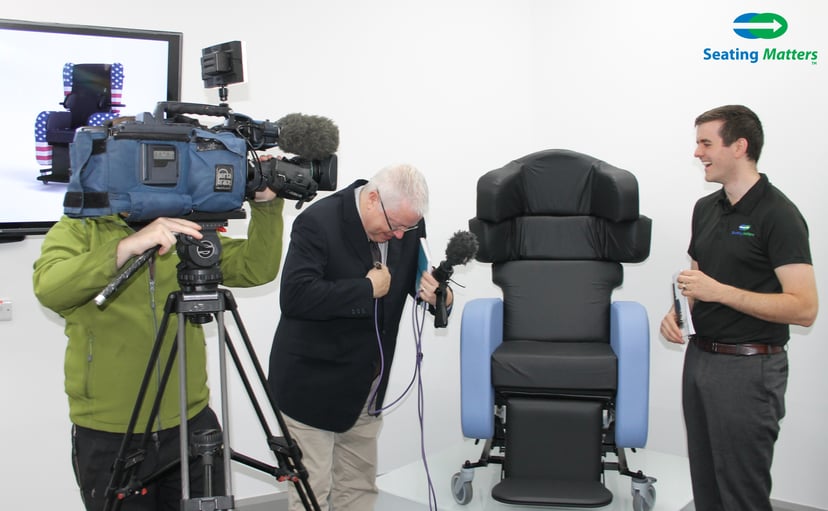 Local East Londonderry DUP MP Gregory Campbell and DUP MLA George Robinson visited us back in May, and revisited today to celebrate this good news with us. They are delighted and proud that we are doing so well in the US putting NI on the global trade map.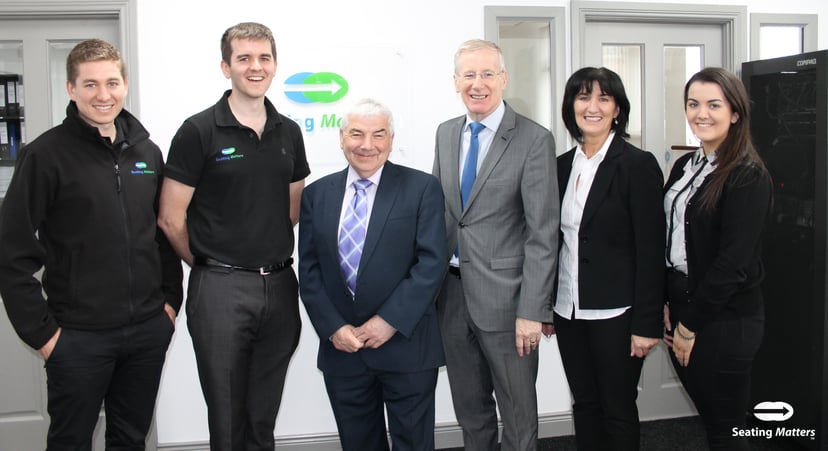 The process to get the Seating Matters chairs on a federal VA contract was as a result of rigorous analysis of our products. There was no other product like this that could cater for the veterans' needs in such a way that our chairs do. The quality of our product along with the clinical design, and the evidence gained through our KTP with Ulster University, were key factors in their decision making.
We are so proud of our team for working together to achieve this tremendous opportunity which raises the profile of Seating Matters in America and makes our seating accessible to those who have risked their lives while serving their country.
Families across the world have been using Seating Matters chairs for their loved ones at home, in hospital and in nursing homes for many years. When a person has low mobility or can no longer walk, a Seating Matters chairs can drastically improve the quality of their life. We're proud to be able to provide the same opportunity for comfort to Veterans in the US.
Through the new GSA contract, Veterans can access the seating through the following veterans organisations:
Community Living Centers (CLC).
VA Medical Center (VAMC).
Community Based Outpatient Clinic (CBOC).
Homes Based Primary Care (HBPC).
Contracted Nursing Home.
Aside from the Veterans contract we have seating specialists in the UK, Ireland, USA, Canada and Australia.
If we can help your family member where you live click here.