As May is Huntington's Disease Awareness Month USA, we are taking a look at this genetic condition which affects approximately 5-10 people out of every 100,000 worldwide.
What is Huntington's disease?
Huntington's disease is a rare, progressive, neurodegenerative genetic disorder, in which people may experience behavioural disturbances, mental deterioration and uncontrolled movements.
Jonathan Tierney explains how Seating Matters have helped patients with Huntington's Disease with our specialist 'Magic Chair' for Huntington's Disease patients.
What are the typical symptoms?
Involuntary trunk and arm movement.
Walking with a wide, uneven stride.
Profuse Sweating.
Depression.
Irritability.
General changes to personality that eventually progress to Dementia.
More prone to infection and illness.
Especially difficult resisting respiratory infections.
Leads individual to become physically weaker and more debilitated.
Who does it affect?
Huntington's disease usually develops in adulthood (typically symptoms appear between ages 20-40) and can cause a very wide range of symptoms.
The disease affects both men and women.
Huntington's disease is caused by a faulty gene on chromosome 4. The gene, which produces a protein called Huntingtin, was discovered in 1993.
In some way - which is not yet understood - the faulty gene leads to a damage of the nerve cells in areas of the brain, including the the basal ganglia and cerebral cortex.
This leads to gradual physical, mental and emotional changes.
Each person whose parent has Huntington's disease is born with a 50-50 chance of inheriting the faulty gene. Anyone who inherits the faulty gene will, at some stage, develop the disease. This has been referred to as 'the genetic lottery' and is a huge decision for children and siblings to contend with – deciding whether to get genetic testing to determine whether or not they have the gene.
How can we improve the quality of life for those living with the disease?
We work with families and carers of patients with Huntington's Disease who are desperate to find solutions to help their loved ones in any way that they can.
Because of the involuntary movements that they are unable to control, the patient is at further risk of hurting themselves so ensuring they have correct and safe equipment is paramount. We have come across case studies where patients have been suffering unnecessarily and resigned to improper unsafe seating and bedrest. Listen to this patient case study explained by Jonathan (above) where we were able to dramatically change the life of a patient with Huntington's and also change the experience for the family visiting their Mother by providing them with a seating solution that kept them safe, secure and able to be left unattended and free from harm.
The Atlanta chair:
The Atlanta chair™ is designed to seat individuals with complex needs who often suffer from involuntary movements and are at high risk of falls and has proven very beneficial for patients with Huntington's disease (HD) in particular.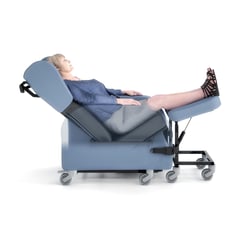 The Atlanta provides a safe, padded seated position that is comfortable and robust enough to with stand constant and vigorous movements. The Atlanta's integrated seat angle tilt and back angle recline creates a resultant deep seat base providing unique stability through a safe and comfortable position, whilst maintaining posture. The ramped seat and high arm rests provide a secure position without the patient feeling like they are being restrained in their chair.
The very low centre of gravity created has also been seen to calm involuntary movements somewhat and help them to relax. More so, this creates very high arms on the chair to keep them safe and secure, no longer able to fall or slide from the chair. The chair is padded throughout, preventing them from injuring themselves also and is robust to withstand the vigorous movements and any picking behaviour.
Click here to read how the Atlanta chair changed Anne Marie's and her family's life.