I am pleased to share with you Donka and Ivan's story. The couple live in Bulgaria and had struggled to find a chair to suit Ivan's needs. Ivan has ALS (Amyotrophic lateral sclerosis) and spends many hours of the day sitting. ALS is the most common form of motor neurone disease, with both upper and lower motor neurone involvement. It is often characterised by weakness and wasting in the limbs.
Donka asked medical professionals what would be the best option for him and they had recommended armchairs. As Ivan sits for long periods, sometimes up to 14 hours, an armchair wouldn't offer the correct postural support or pressure management that he requires. Donka knew that she needed to get her husband sitting and up out of bed, so she searched online and found Seating Matters. "I was looking for a specialised chair and I found you online. The head and shoulder support is very important for someone who has ALS. A normal arm chair will not work to help his condition," says Donka.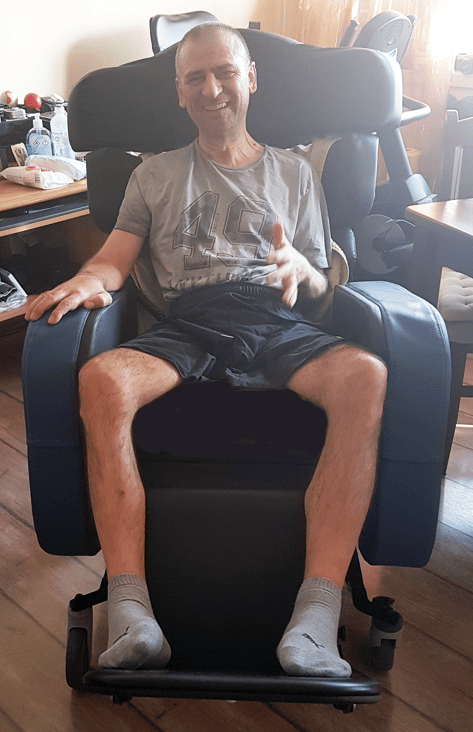 Ivan is now sitting well in his Phoenix™ chair, the most supportive and functional of the Seating Matters chairs. It gives maximum upper body support and adapts to the changing needs of a person. I am pleased to hear that the Phoenix™ has really worked for Ivan.
"Once he got acquainted with the chair he became much better. Before, he sat in an armchair and he couldn't breathe very well or eat. Now we don't need as many people to help care for him," says Donka.

As on OT, improving someone's function is at the forefront of what I aim to achieve. I am pleased to hear that Ivan's function has greatly improved having sat in his chair. Donka says,
"He is much better, there are more things he can do in the chair. We of course have to move his position. He sometimes will sit for a long time and fall asleep so it is much better for him to be sitting up, not lying down in bed."
At Seating Matters, we are a global company, however there may be some areas where our Seating Specialists in your local area cannot make a personal visit. This was the case for Ivan and Donka. I have personally trained our team of Internal Seating Specialists, who are equipped with knowledge and expertise to assist in supporting you through the assessment process when a local Seating Specialist isn't present, or answer any questions you may have. The team will guide you with ease, to familiarise yourself with everything you need to know about the process; from how to take the correct measurements for the chair user, to the best method of chair delivery.

Our Internal Seating Specialist Frances supported Donka through the purchasing process, which was done via email and over the phone. We want to reassure you that wherever you may be based, it is our goal to ensure that we can do everything we can to ensure the right chair is recommended. Donka was very pleased with the service she received from Frances and the Seating Matters team. "Thanks a lot for your kindness and support."
We are happy to help Donka and glad to hear you are doing well Ivan! Donka, thank you for sharing your story. We always love to hear your experiences with Seating Matters and how a chair how changed someone's life. Whether you are a clinician, a family member or loved one, please share your story with us. Get in touch today.
If you aren't sure what the next step is for you, your client or loved one, we recommend speaking to one of our Seating Specialists to ask any questions you might have. Our team are on hand to support and guide you through the next steps of your journey.
Call your local office today or request a call back from a Seating Specialist.