The difference between recline and tilt in space in seating can be often confused and it is crucial to understand the difference in these functions to ensure that the chair is both comfortable for the patient and to reduce the risk of pressure ulcers occurring. The recommended chair for the patient should be adjusted to meet their individual postural and pressure care needs and therefore, reclining or tilting to best suit their condition.
CLICK HERE TO REQUEST YOUR FREE SEATING MATTERS PRODUCT GUIDE.
What Is Back Angle Recline?
Back angle recline is the adjustment in angle of the back of the chair, whilst the body of the chair remains stationary. It is measured as the angle of the back from the seat surface where the patient sits.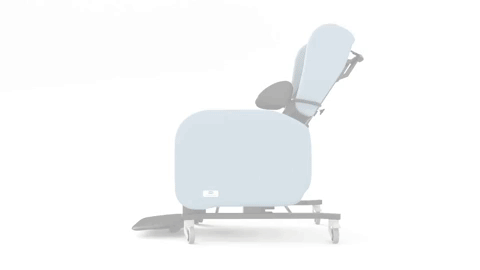 When is back angle recline used?
Back angle recline can be used for comfort and to redistribute pressure. It is a crucial that the back angle of the chair matches the hip angle of the client. If the back angle does not match the hip angle the client will slide from the chair and this will cause sacral sitting or Posterior Pelvic Tilt. Guidelines recommend that seated individuals be re positioned every 2 hours to redistribute pressure and off load high pressure areas.
Recline on its own can cause sliding from the chair in clients who have poor postural control, thus increasing shear and friction. It is recommended that Tilt in Space is used in conjunction with Recline for this group of clients.
I never recommend a recline only chair for clients who are unstable and have poor postural control.
Re positioning can be accomplished by an adjustment in the angle of the back of the chair. In patients with limited hip flexion the angle of recline can be locked at an optimum angle position to reduce the risk of sliding and improve comfort.
Which chairs facilitate this feature?
The Seating Matters Phoenix™, Sorrento™, Bariatric Sorrento™ Atlanta™ and Monaco™ chairs have back angle recline adjustment. This feature can be temporarily locked at a specific angle, depending on the patient's needs, to limit improper adjustment, and easily re-engaged to adjust the angle required.
To find out more about back angle recline click here to watch a short video.
What Is Tilt in Space?
Tilt in space is when the entire chair tilts on its frame, whilst the angle of the patients hips, knees and ankles remain the same.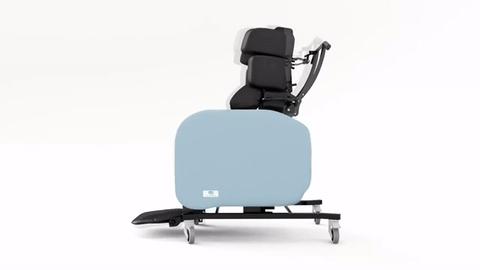 When is tilt in space used?
Tilt in space can facilitate a functional in patients who have poor sitting posture and also is vital is redistributing pressure to off load the Ischial Tuberosities (IT's). Tilting the client back whilst maintaining the angles in their hips, knees and feet creates a safe position, redistributing weight through their back, reducing potential pressure ulcers, whilst creating a comfortable, stable and functional position.
Which chairs facilitate this feature?
The optimum angle for improving positioning and function is 15-30° which comes as standard on our Phoenix and Sorrento chairs.
A 45° tilt is needed for those patients who are at a greater risk of pressure ulcers, and proves an effective angle for weight shift and pressure management.
The Seating Matters Sorrento™ and Phoenix™ chairs have the option of increased tilt in space to a maximum of 45° with built-in back recline adjustment.
To read more and watch a short video about when to use tilt in space click here.
Remember we have free resources on hand to help you in prescribing correct seating for your patient or loved one.
We provide free Seating Assessments carried out by your local Seating Specialist. We have Seating Specialists based across the world to assist you – find out who is the Seating Specialist in your area and book your free, no obligation assessment today.
We have Internal Seating Specialists available to answer your questions at any time also, please contact us by phone, email or using the live chat feature.