Committment to outstanding patient care
Managing Director of Cornfield Care Centre Jervis Nutt, has been commended by Seating Matters for his outstanding and innovative approach to patient care.
This accolade recognises the contribution that Limavady care facility, Cornfield Care Centre had partaking in groundbreaking clinical research. Over a two year period, a number of residents were seated in Seating Matters chairs to discover the effectiveness of specialised seating in the nursing home environment. The results were staggering. Jervis and his carers discovered vast improvements to the health and well-being of the residents.
Mr Nutt's desire to provide first class care is very personal. A retired farmer, Jervis cared for his parents, his elderly aunt and bachelor uncle before they passed away. Deciding to leave farming behind after 35 years, he channelled his passion as a carer into establishing a safe and comforting environment for the elderly from his local area.
"Having cared for my family, I wanted to provide a home that would be tranquil yet a secure living space. We opened our doors in 1999 and offer permanent and respite care for the elderly or people with Alzheimer's Disease and Dementia, says Jervis. He continues, "Cornfield is renowned for providing good care and Seating Matters has contributed greatly to that. We owe our residents a better quality of life and 100% care. With Seating Matters chairs we can do that."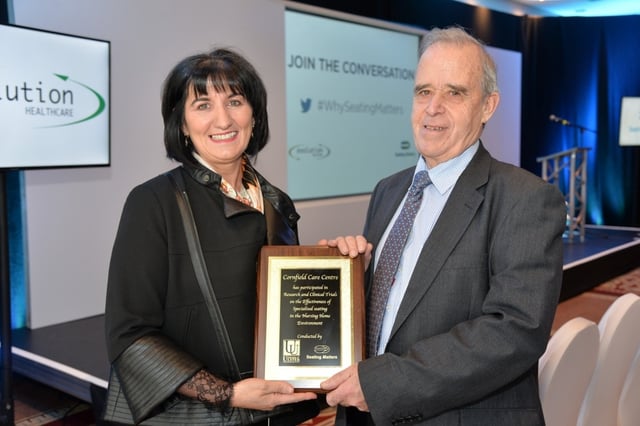 Going above and beyond for patients
The family run care home, situated in the idyllic surroundings of the Limavady countryside, is home to 128 residents, which boasts the title of "Best Kept Residential Facility" by the Western Trust for two consecutive years.
Seating Matters were delighted to work alongside Cornfield Care Centre, a family orientated care home that goes above and beyond for their residents.
"Jervis' passion and commitment is inspiring. His forward thinking approach to patient care ensures that the residents are provided with the finest facilities and we are proud to provide over 50 specialised seats, enriching the lives of the residents at Cornfield," says Martina Tierney, Clinical Director of Seating Matters. See continues, "I travel globally to teach hospital and care home staff about improving patient care, reducing the risk of pressure ulcers and improving the quality of life of the people we are caring for. When I'm talking with audiences around the world, I always use Cornfield as an example. It is easily one of the top facilities I have had the pleasure of working in."
In relation to the research project, Martina said,
"Without Jervis and his residents, conducting the research would not have been possible and for that we thank him wholeheartedly."
Significant reduction in pressure ulcers
The findings from the research were astounding. They revealed a significant reduction in pressure ulcer incidence as well as other notable health benefits including, improved digestion and respiration, an increase in communication and independence and an overall enhancement in a better quality of life.

To find out more about our clinical research project please click here.