We know that the work we do here at Seating Matters is changing lives everyday and even saving lives, but still, when we get an email like this, it has a huge impact on our whole team from the sewers and crafters in the workshop to the Seating Specialists on the road. It is the very reason why we do what we do.
This email came to us from our distributor in the Chicago area. Read Mr Smith's story...
Hi everyone,
We recently provided a seating solution which has not only solidified our belief in the benefits Seating Matters therapeutic chairs provide but thoroughly convinced us these chairs save lives.
A few weeks ago we scheduled a lunch and learn for a Chicago based senior living facility. Martin joined us and presented for a group of PT/OT/ST and facility administration. As always Martin provided an excellent product education session for the facility and us as well. After the session the director stated she had someone in mind for the Phoenix. She called me the next morning and asked if we could return to provide a Seating Assessment and Chair Trial.
This is when everything changed for me. We returned with a Phoenix and were lead down a hallway to meet the trial user. When we turned the corner I saw Mr. Smith* sitting in a high back wheelchair about 8 feet away. He was slumped over on his left side with his left arm planted on the edge of his seat in order to brace himself. His left leg was extended out and off the footrest firmly on the floor. His right leg was wedged on the right footplate again all in an effort to try and support his body. His head was facing down and to the left barely able to rise as we approached. The staff re-positioned Mr. Smith in his high back wheelchair in order to move him back into his room. There we adjusted the Phoenix to correctly position Mr. Smith. He was unable to stand or support his own body weigh requiring staff to lift and transfer. Within minutes of sitting in his Phoenix which now provided left torso, shoulder, and head support Mr. Smith immediately fell into a deep peaceful sleep. Needless to say we left the facility with an incredible high which carried us throughout our day.
As part of our follow up we contacted the PT Director over the next couple of days to see how Mr. Smith was doing. Her feedback was very positive but brief in description. The next week Mr. Smith's personal caregiver called me to discuss his progress.
She informed me Mr. Smith was very comfortable and one day after using his new Phoenix he told her "I have no more pain".
Mr Smith before and after
He was now able to watch TV from his chair which meant a lot to him. Two days after sitting in his Phoenix he was trying to assist the nurses with transfers from bed. He attempts to feed himself and has since gained back the weight he'd lost in the two months prior while sitting in the wheel chair. He even tells his caregiver he wants to sleep in his Phoenix. We visited the facility last Friday and provided additional adjustment instructions for the staff. We spent time with Mr. Smith and his caregiver. She provided some of his history and his amazing progress since April 12th. He was smiling, communicating pretty well and even gave me a firm handshake as we left.
Based on Mr. Smith's condition when we first met him and some of the additional information we've learned since, we are absolutely convinced our seating solution saved his life.
Thank you, and know that if it wasn't for the work you do, right now Mr. Smith would still be in pain and suffering in silence.
Thank you to all those who work at Seating Matters, each role plays an important part in the solution we are able to provide.
Thank you to the Tierney family for creating, designing, building, and believing in Seating Matters. If it wasn't for you the world would not have this life changing seating solution.
We are spreading the word and people are hearing the message.
We are proud to be part of Seating Matters, Changing the world of healthcare seating!
Warmest Regards,
Your Chicago family
If you have a similar patient story we would love to hear your feedback, just let us know at stories@seatingmatters.com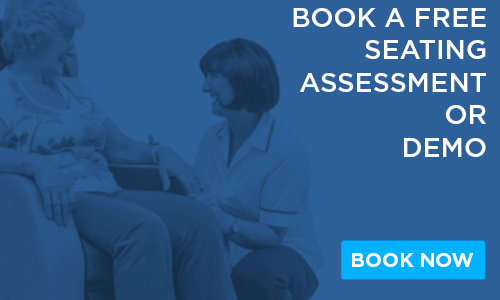 *Patient name has been changed for privacy
#SeatingMatters Stories